Our mission is to make home security simple and accessible to everyone. With AlfredCam, you only need one Viewer device to set up your security systems. You may download our app on Google Play Store or App Store on your Viewer device, and pair it up with AlfredCam (Alfred's own hardware camera).
To set up your AlfredCam, please scroll down for a step-by-step guide:
Download the AlfredCamera app on your Viewer device
Please download the AlfredCamera app on your Viewer device from one of the below platforms (see more information on the device and systems requirements here):
Create or Log in to your account
If this is your first time using the AlfredCamera app, you will be asked to set up an account. You may sign up with your Google account, Apple ID, or email address to create a new Alfred account. You can see more information on how to set up your Alfred account here.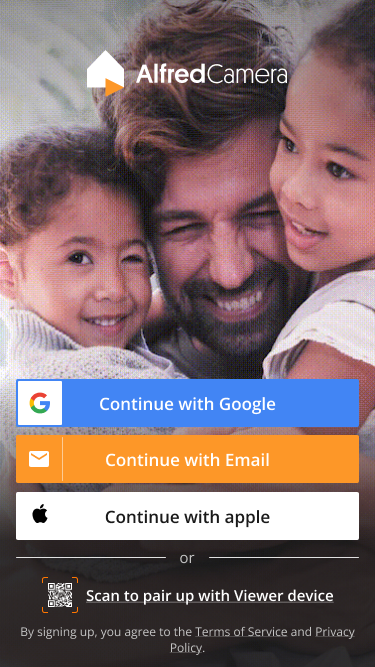 Connect AlfredCam with your Viewer device
Make sure your AlfredCam is plugged into a power source, you should see the Status LED on your AlfredCam is in solid RED 🔴.




On your Viewer device, tap "Add a Camera" and select "AlfredCam"



AFTER the Status LED turns slowly blinking GREEN 🟢, tap "I see the green light blinking"




⚠️ Note: If you do not see the green light blinking, please tap "

Not seeing the green light blinking?" and reset your camera with the paper clip by pushing the reset button in for 5 seconds. When you hear a beep from your AlfredCam, please tap "I heard a beep". Then follow the instructions to retry again.



Select your 2.4GHz WiFi network > tap "OK" > enter your network password > tap "Next"




⚠️

Note: The Alfred app will only ask for location access during the pair-up process by searching for the WiFi nearby to help pair up devices. If you have privacy concerns, you may choose "Allow once", and the location access will be automatically de-authorized after the pair-up process is complete.



Scan the QR code


A. Hold your camera up to your phone screen with the QR code displaying, and keep 6-12 inches of distance in between.
B. AFTER you hear "QR code scanned"

, tap

"I heard QR code scanned". Then wait for a few seconds to complete the setup.

⚠️ Note: To avoid glare causing unsuccessful scanning, please remove the transparent sticker on the AlfredCam and adjust the screen brightness.





Once the Status LED turns solid Green 🟢, you're all set! When prompted on the next screen, follow the instructions to turn on Motion Detection.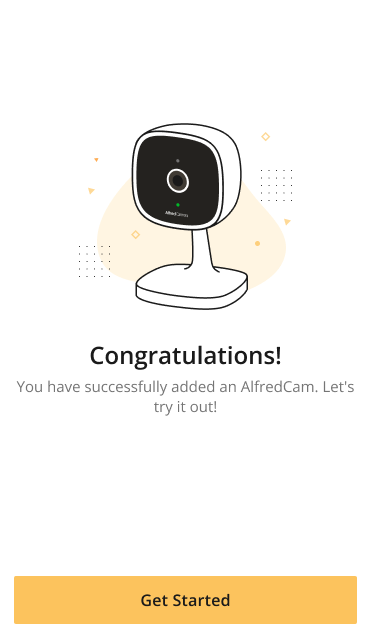 See Also:
🙋 Still have questions? Please contact us from the More tab in the app.