While we suggest always keeping the Camera device plugged in to ensure a consistent network connection and results for the app, we understand that you may have concerns regarding if your device battery overheats, swells, explodes, or charges too slow. In this article, you'll find some suggestions for these scenarios:
Tips for preventing overheating and swelling
☀️ Avoid direct sunlight

🌡 Tape your device to the wall to diffuse heat

📱Take the case off of your Camera device

🔌 Unplug Camera devices when not in use

Use a charger with a timer

Use a

smart power plug/outlet

🔅 Reduce screen brightness

✖️ Delete unused apps
⚠️ Note: If you have an old battery, or unstable power resource that might cause overheating, you can try the below tips:
Use the chargers from the original manufacturer

Change battery (original manufacturer)

Plugged your device into a stable power source
Recommended settings in the app:
Enable

Power-Saving Mode
Remotely switch

off the camera if you only want to periodically check on your pets/kids/house

For Premium accounts, enabling Detection Zone, Motion Detection Schedule, and Person Only can help reduce the unnecessary functions of recording videos
Tips for preventing battery explosion
Batteries have a natural life expectancy, but there could be several reasons that could cause explosions in defective batteries, such as overcharging or fast charging. Most of Alfred's users use old devices as Camera devices, which could also increase the likelihood of an explosion. You can try the below suggestions to prevent battery explosion.
Stick to chargers from the original manufacturer

Change battery if needed (from the original manufacturer)

Keep Camera devices plugged into a stable power source

Place your device somewhere that can

reduce the number of false alarms

Enable Alfred's

Power-Saving Mode

Don't allow your device to get wet

Look out for excessive heat coming from the device, especially when charging
Tips for preventing slow-charging batteries
🔌 Use charging accessories from the original manufacturers

📲 Make sure the charger and cable are connected properly to your phone

📱 Connect your phone to a stable power source

🔋 Replace your phone battery

✖️ Delete other apps on the camera phone
Keeping your Camera device plugged in will boost its performance. You can check the icon with a percentage in your Camera cell, which shows how much battery is left. If your Camera device is always plugged in, it might always be 100%.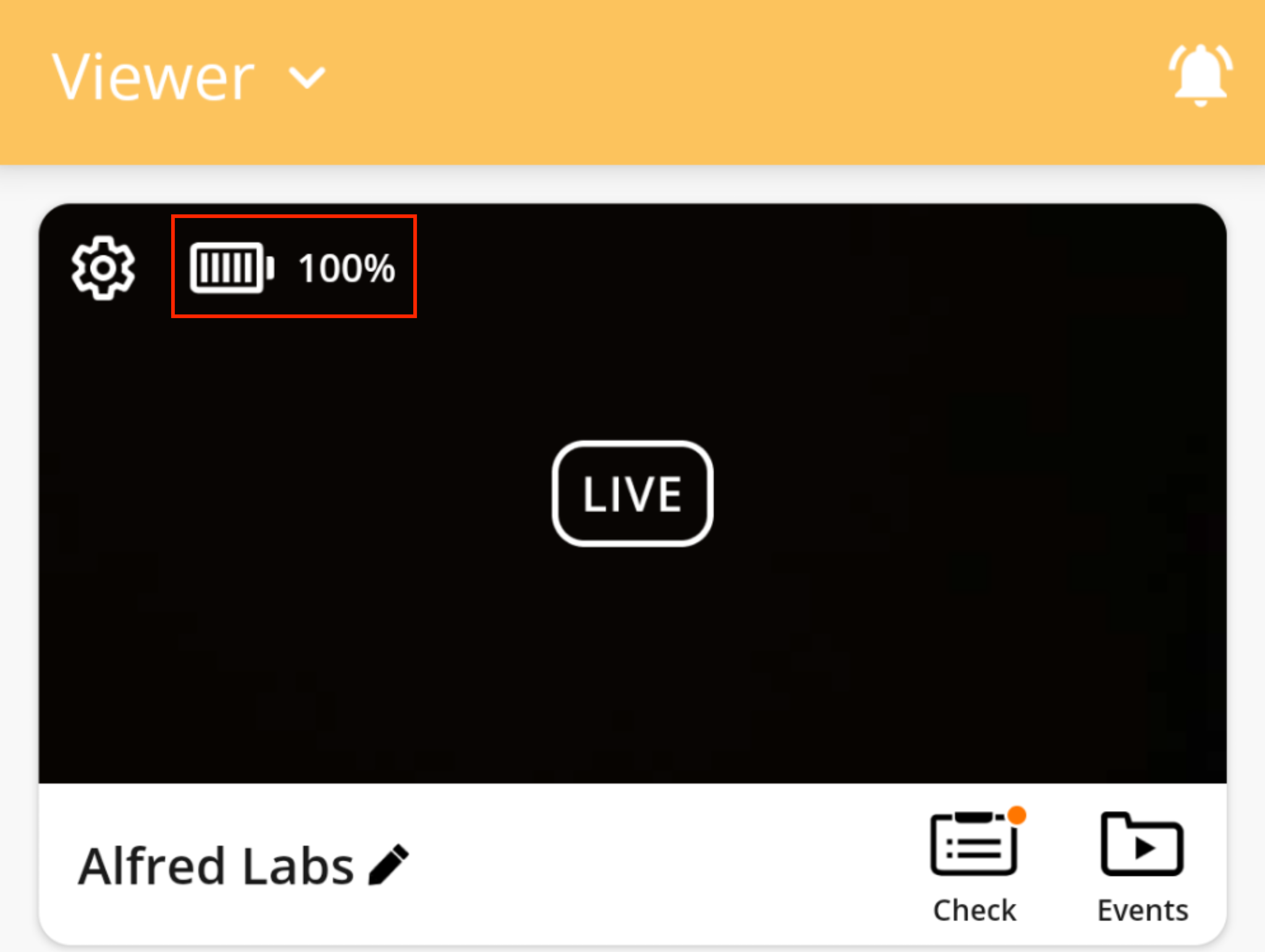 See Also:

🙋 Still have questions? Please contact us from the More tab in the app.